Further Information
The finer details
Addresses
The exact position and directions along with other details about the property will be sent to you after booking. Our contact information is given at the head of each page and the approximate location can be found from the map link in the Details section.
How many does it sleep?
If we say 'Sleeps:7+2' this means the place sleeps seven people comfortably, yet it can sleep another, possibly two. The extra places are on a sofabed and a camp bed. We have no 'family' rooms as such. We do have an annexe sleeping two however it is not always available so please contact us if you need the extra space. The annexe has an en-suite shower room and a kitchenette.
It's important to confirm in advance how many people will be staying. If you squeeze in the maximum number don't be surprised if space feels limited. Pitch up with more people than you said you would and you could be painfully squashed and/or, in breach of our agreement see booking form.
For up to date availability see our offers pages for special weeks such as Christmas, New Year, Easter, and Bank Holidays.
Bedrooms
A double means one double bed; a double/twin is two single beds that can be linked together; a twin means two single beds.
We do have a sofabed and a camp bed - we have them mainly for children; but if you want adults in them, check with us first. It's important to confirm in advance how many people will be staying.
We can provide a travel cot and a high chair . Extra high chairs and cots for children can be hired locally.
Bathrooms
We have used normal website shorthand,i.e. where we mention a bedroom and a bathroom without punctuation in between the room is en suite, eg: 1 double with bath; 1 twin with shower. If there is punctuation in between the list of rooms, they are not en suite, eg: 1 double; 1 twin; bath & shower room. Bath & shower means that it has a bath and a separate shower; bath/shower means that it has a bath with a shower attachment over; bath or shower on their own mean that it just has a bath or just has a shower.
Checklist
We have included information about most holiday essentials (dishwasher, phone, etc). If there is anything else you want to know about, ask us.
Changeover day
We have a set day for weekly bookings, generally Friday-Friday. However out of the high season we may be prepared to change to Saturday-Saturday but this depends on our cleaners and whether we have a booking the following week. In low season we will do our best to be flexible. It is normal to arrive after 3pm and leave by 10am (Tantallon 5pm and leave by 12 noon) to give the cleaners a chance to prepare the place for the next guests.
Prices
All prices are per property per week. We have given a range from the cheapest, low-season, price to the highest, high-season price, in our case there may be an extra charge for the annexe. We do offer weekend breaks or short breaks out of season depending on availability. If you do not mind a negative reply we are happy to respond, but do not expect any special deals earlier than 14 days beforehand. In any event all our 3/4 day breaks are priced according to the time of year from a special short break price list which we do not publish but it is in line with those offered by the large operators. Any offers should be posted elsewhere on our websites. You will need to specify the exact numbers of your party and the specific dates you have in mind. We try and keep our prices and availability pages up-to-date. When searching the database by date you will need to enter a friday date e.g 02-sep in the searchform otherwise you will not find any cottages available on that date.
Symbols
The information represented by Symbols should be up-to-date. Things do change however;the bikes may no longer be roadworthy; the local shop or restaurants (see our list) may have closed; ferries are closed for maintenance or schedules changed. Do check these things on the phone when booking. Use the symbols as a guide, not as a statement of fact.
Other Points of Interest
These are some of the many things that from experience we know our guests have enjoyed, apart from our cottage guests we also had many guests staying in our house over the years who kept us up-to-date particularly with the quality of local pubs and restaurants, the local knowledge gathered from all the snippets of information provided are like gold dust and can turn a good holiday into one to remember. Just ask and we will do our best to help you. The same goes for anything which may not be quite right, we like to know as soon as possible. We may not be able to put things right immediately but if you wait until the end of the week we definitely can't. The local Tesco in Truro will deliver here (their full range of food and drink and other household necessities can be ordered from their website) and if you arrange your time slot far enough in advance you may be able to fit it in to suit your arrival ( if Friday afternoon, please after 3pm). We can sometimes arrange baby-sitting for you but again only with sufficient notice. All of our places of interest are well worth a visit. Do investigate these - we hope that they will persuade you to come to Cornwall. If you're unclear about what is said there, please contact us to find out more.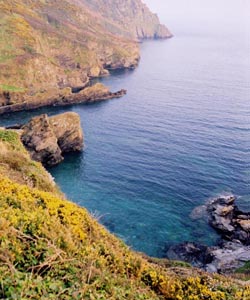 Manare Bay, nr Portloe ©2003 Oliver Barstow
Comments from some of our guests in the recent past :
"We love it here as it is so peaceful and we have never seen brighter stars in the night sky."
"The house was lovely and such a fantastic view from the living room............"
"We found the house very well equipped e.g. some nice touches like the provision of cleaning materials,dishwasher powder etc- Xmas is quite a testing time in the culinary department so it was good that we found everything we needed."
"I never knew that Cornwall's climate was so mild."
"We just spent the whole holiday on the beach."
"The Cornish are so friendly."
"Your fish restaurants are as good as those in Boston!."
"Gee those roads are something else ! My goodness every journey is an adventure but you have a real sense of achievement when you return home."
"We loved the walks and found a different route every day for our two weeks."
"What glorious blue Hydrangeas, how do you grow them?." (Actually the question was quite difficult to answer as it was in French and Hydrangea are called Hortensia in France!)"
"We want to come again next Spring to see more gardens and those wonderful wild flowers in the hedgerows."
"We loved the Eden Project and we must see it again next year." (The Eden project is the world's largest greenhouse in an old clay-pit near St.Austell)."